Hi! In case you are new around here, my name is Jenny MacDonald and I am the owner of The Little Shop Box - a Canadian subscription box company focused on supporting small businesses and community organizations.
In August 2022, my partner Brandon and I got married. It was incredibly important to us to support local businesses including retail shops, suppliers, and service providers as part of our big day.
So here we are to share with you some of our favorite small, Canadian businesses that helped make our day extra special. Happy scrolling!
(Note: There are no affiliate links in this article. All of these recommendations come directly from our own experience.)
1. Bridal Jewelry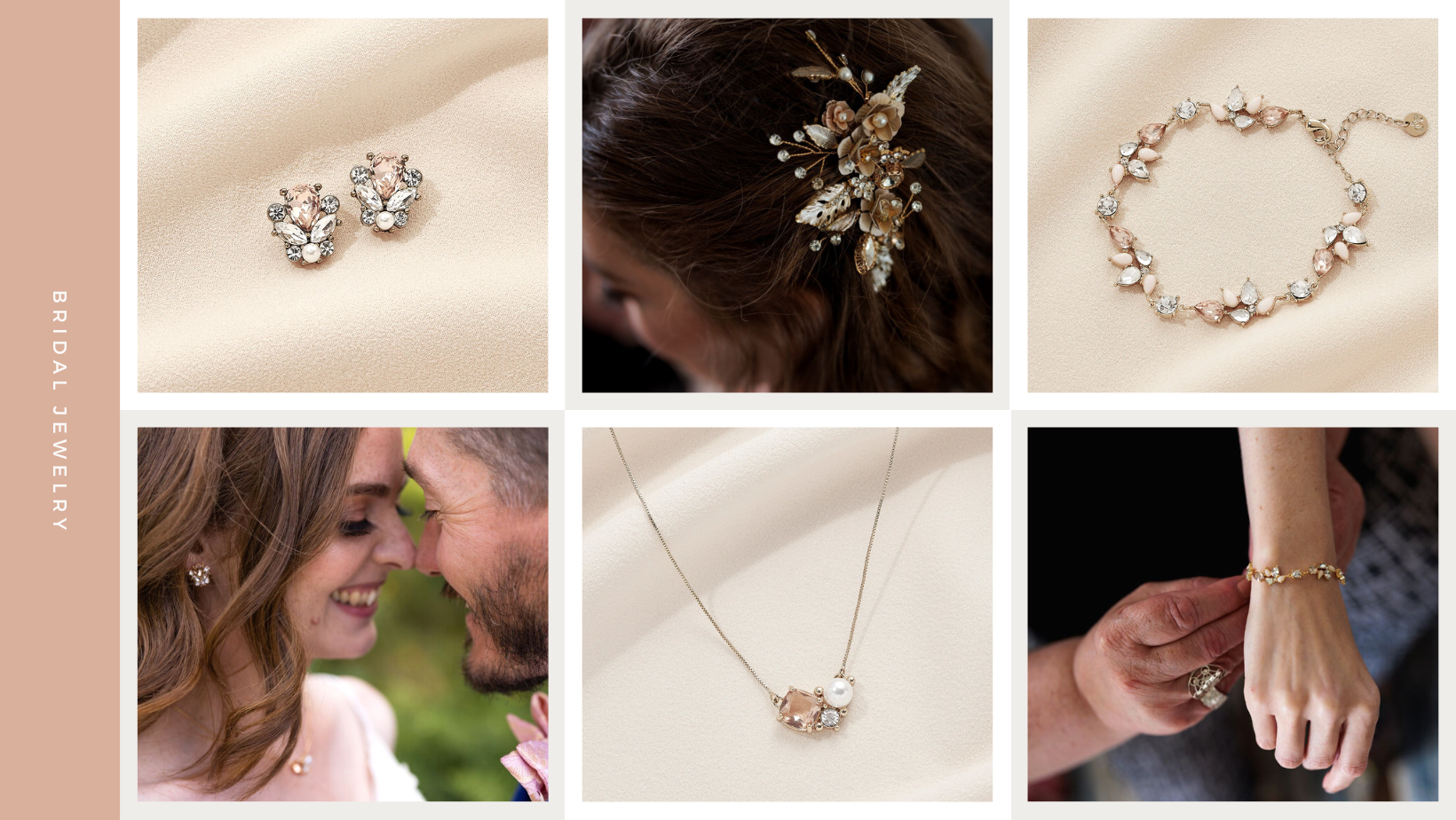 I was so thrilled with my wedding picks from Olive & Piper based in Vancouver, BC. Our wedding colours included blush pink, and my dress was ivory with a champagne underlay and some blush lacework, so these blush, ivory, and gold pieces from Olive Piper were absolutely perfect! I loved how you could pick and choose coordinated pieces without committing to predetermined sets. As you'll read below, we also gifted Olive Piper jewelry to our bridesmaids and mothers.
I scoured the internet for the perfect hairpiece and I definitely found it! This stunning hair comb is from LilaSilkCo in Vancouver, BC.
2. Suit Accessories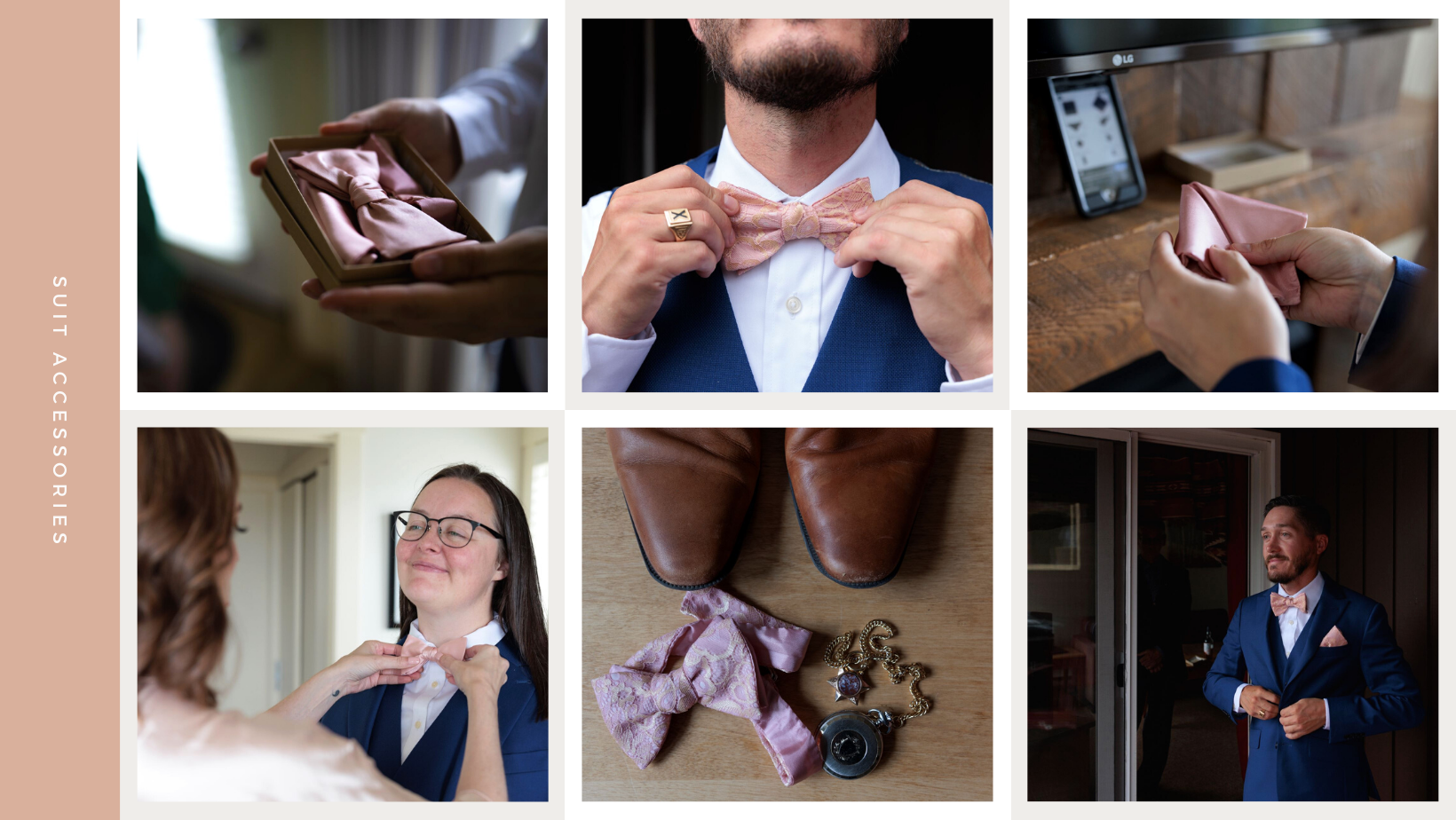 Brandon lucked out by finding Kiera Morgan of Handsome & Lace. Based in Toronto, ON, Kiera custom-made bowties, pocket squares, and a beautiful pair of leather suspenders for Brandon, his groomsmen, and one of my bridesmaids. Believe it or not, she matched our wedding colours through email correspondence. I was so nervous when this package arrived because Brandon is very particular about his fashion choices -- but once we opened it, we were both immediately in love with Kiera's work! Brandon chose a lace fabric with a gold accent for his tie and square, and the solid blush for the rest of the wedding party folks, so that he would stand out slightly from the rest of the wedding party.
3. Gifts
We went out of our way to treat our bridesmaids, groomsmen, flower girl, ring bearer, mother-of-the-bride, mother-of-the-groom, and emcee to some local keepsakes.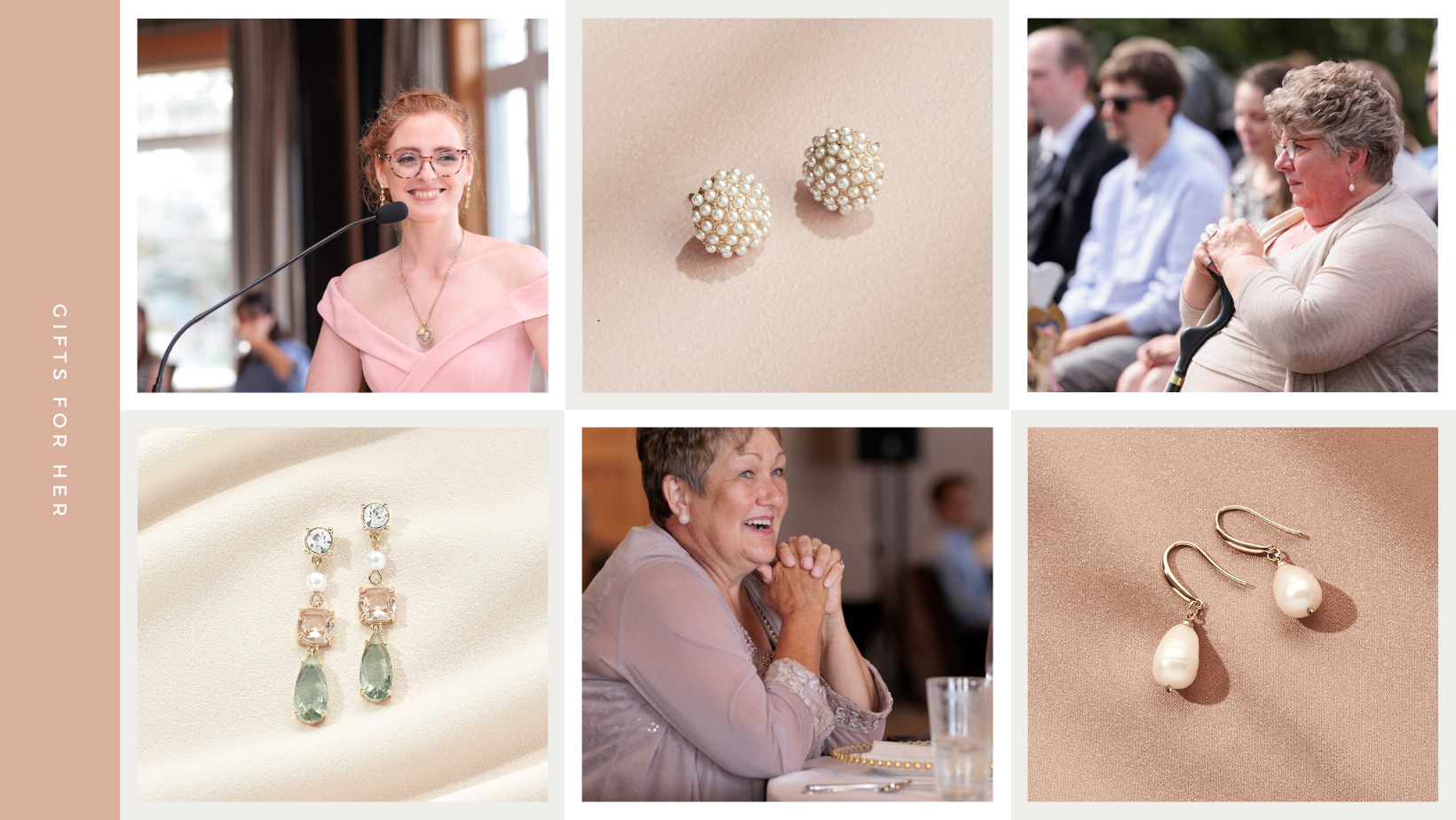 Olive & Piper was the perfect fit for two of my bridesmaids and both of our mothers. Not only is their jewelry beautiful, but it also meant that we were all in complementing jewelry for our wedding photos (bonus!). I chose the two bridesmaids' earrings based on their individual personalities and tastes. My sister (left) loves colour and adventurous choices, so I knew these tri-coloured Evie Drops would be perfect for her. For our mothers, we went more classic look with the Pearl Pave Studs and the Prado Pearl Drops. I love that this gave everyone a gift that was tailored to each of them but also worked seamlessly together -- and it's a gift that they will be able to use over, and over, and over again.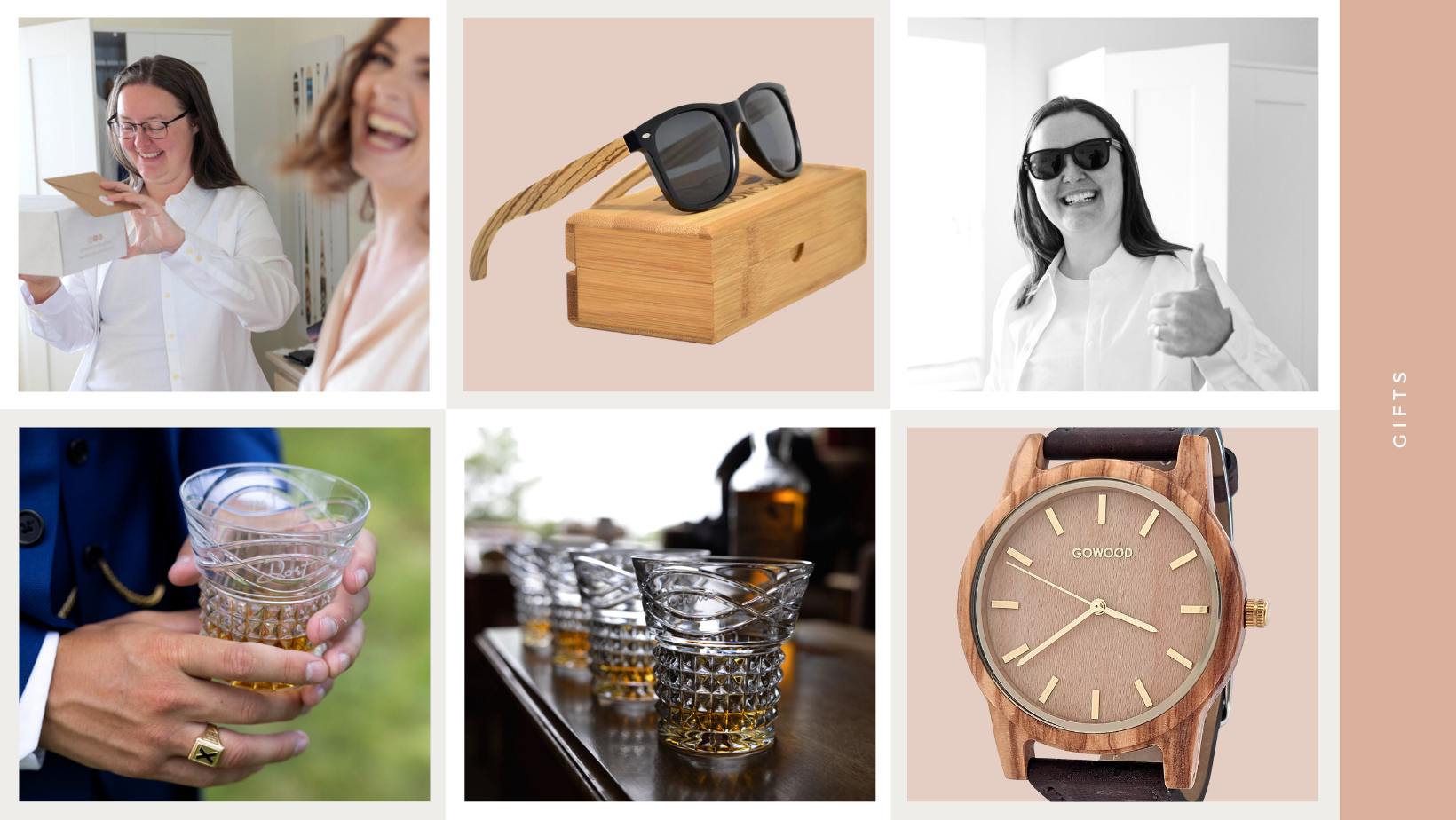 For my non-earring-wearing bridesmaid, I went with a pair of Zebra Wood sunglasses from Montreal's Go Wood. They were the perfect accessory for this hot and sunny August weekend. I also surprised Brandon with an Olive Wood watch with Cork Strap from Go Wood which he has been wearing almost every day since the wedding.
Brandon gifted his groomsmen these stunning crystal rocks glasses etched with each of their names from Island Crystal based in Louisbourg, NS. The guys shared a bottle of scotch while they got ready, and loved having their own fancy glasses to sip from.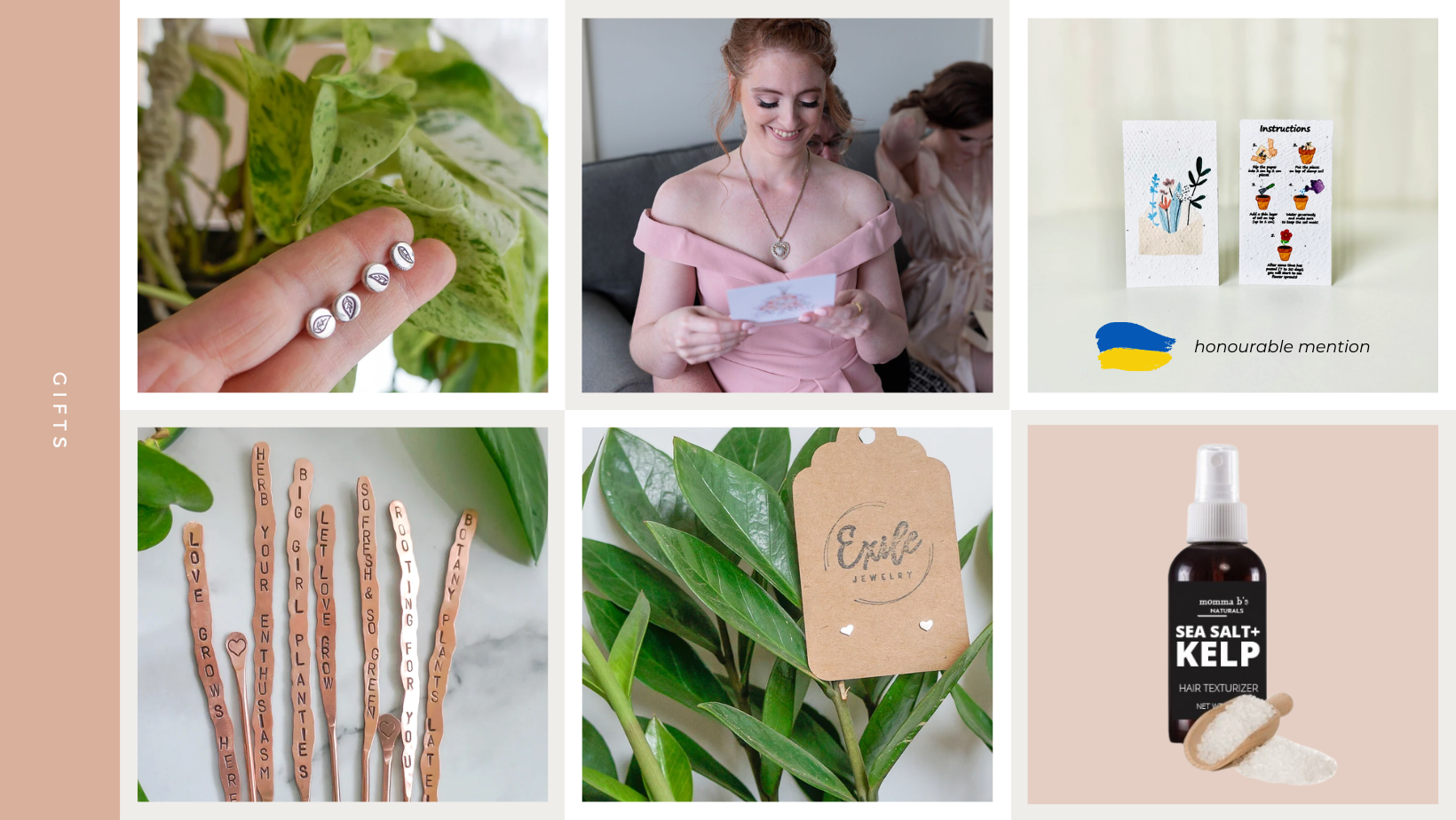 More gifts, gifts, gifts! Each bridesmaid received a custom Little Shop Box with their Olive Piper earrings or Go Wood sunglasses, plus a trio of planter stakes from Exile Jewelry (Windsor, NS), the Sea Salt Kelp Hair Texturizer from Momma B's Naturals (Caledon, ON), and a Poplar Paper Co. card (Tantallon, NS). All made in Canada, plus they all matched our garden and beach-themed location!
Our rockstar flower girl and ring bearer donned some tiny studs from Exile Jewelry which were perfect for their little ears.
Honourable Mention -- given current circumstances, we also wanted to support and shout out this special little shop from Ukraine. We included a small thank you card made from seed paper at each seat as part of our tablescape. They were designed by Anya of SomeIdeaShop. These were so popular with our guests. I was hesitent to by any type of wedding favour that would just get left behind or thrown out. These seed paper cards are beautiful, practical, and provide lasting memories for years to come. (Not to mention, they were so popular that they were all gone after the reception.)
4. Bevvys!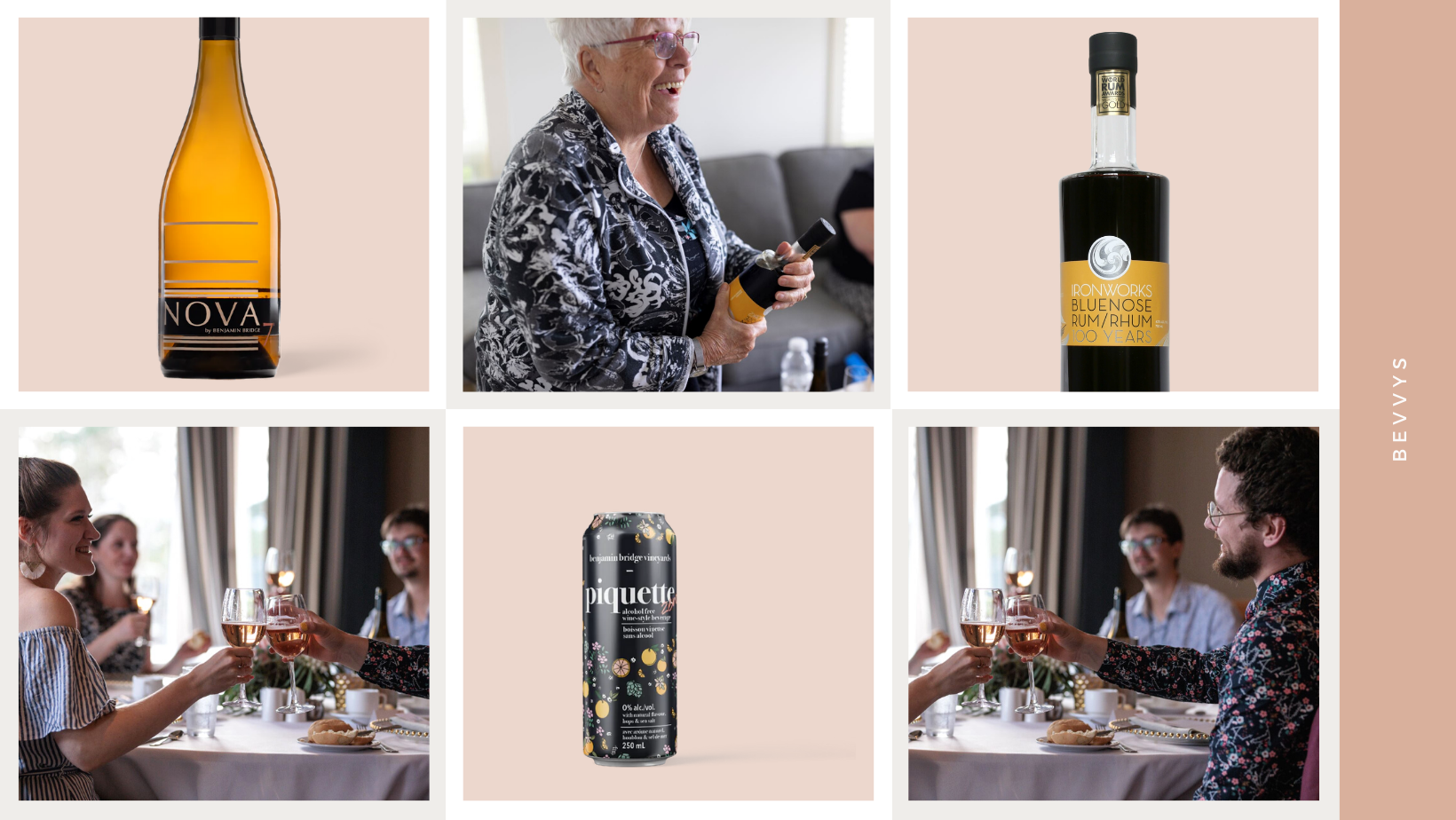 We have so many incredible options here in Nova Scotia for local beverages. In addition to stocking our travel cooler with some of our faves for the weekend, we also asked our venue to serve local options during our cocktail hour and reception. For table wine, we chose Benjamin Bridge's Nova 7 and Piquette Zero. This was A HIT!
Benjamin Bridge is located in Wolfville, NS. Their Nova 7 is a delicious light bubbly perfect for special occasions. It gave us that champagne-toast-feel we were looking for at an affordable price. (Honestly, I prefer it over actual champagne!) It is also lower in alcohol content than a typical table wine, which means people can sip away throughout the long, hot day without going overboard.
I remember attending a family wedding several years ago when my father, who does not drink alcohol, mentioned that weddings never "have anything good" for non-drinkers to enjoy -- the options were always water, soda, or juice. With this in mind, we chose to include an alcohol-free wine so that all of our loved ones who wish to could join in on the sipping, cheers-ing, and feeling fancy. I learned during my search that not all non-alcohol wine is truly alcohol-free; many have very low percentages of alcohol. Piquette Zero is a truly alcohol-free wine beverage that is also delicious. Yes, an alcohol-free wine that is also tasty!
We went a different route than the traditional bottles of red and white, and it definitely paid off. We received lots of positive feedback from our guests on these choices.
An honourable mention goes to Ironworks' award-winning Bluenose Rum. We purchased a bottle of this decadent dark rum and it became a popular sipper throughout the day as the wedding parties got ready. We also highly recommend it with a little Ginger Beer for a tasty Dark and Stormy cocktail -- perfect around a campfire.
5. Decor Music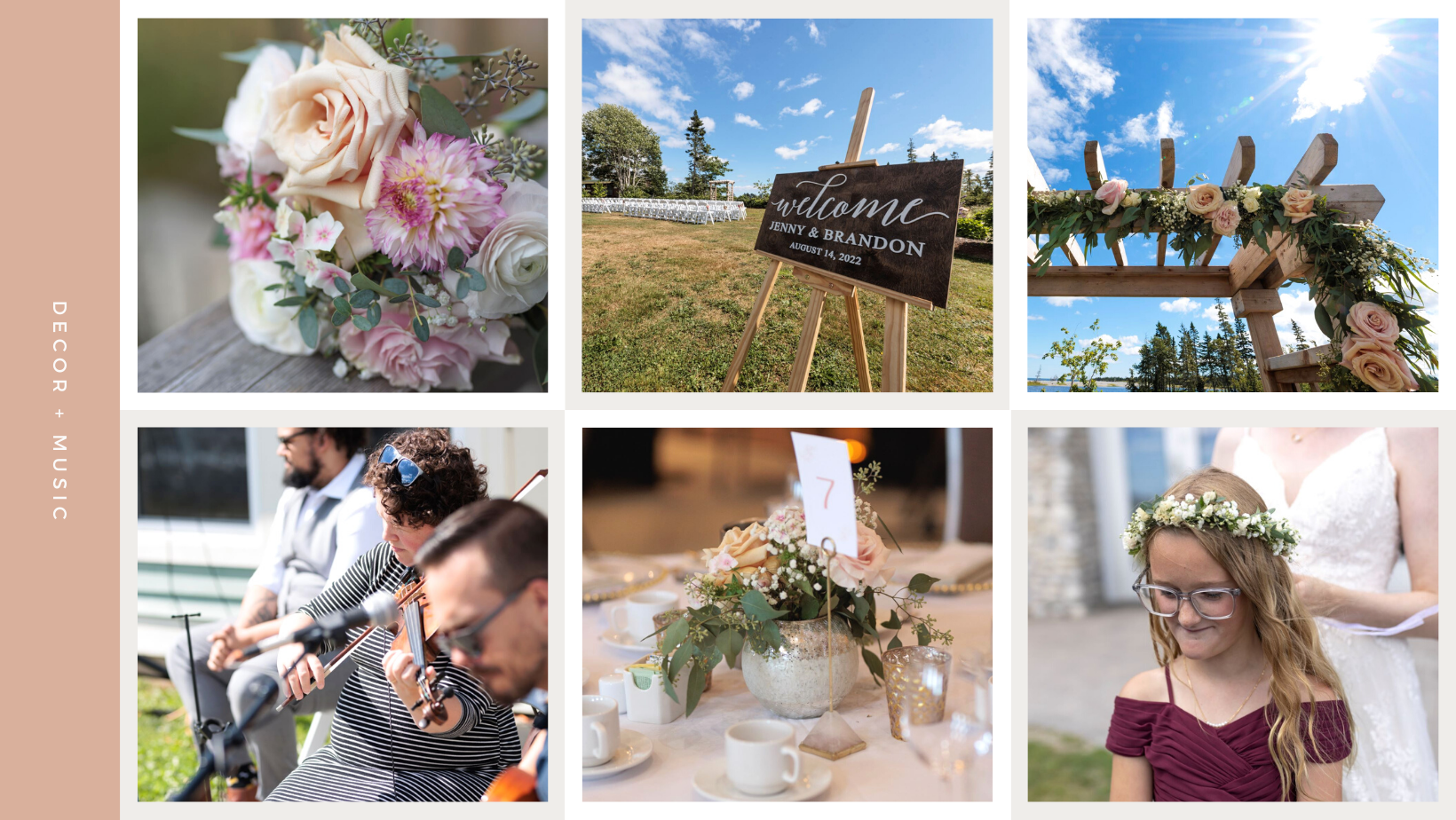 If you're looking for easy ways to support local businesses on your special day, start by choosing those who will provide your basic wedding services -- your venue, decorator, florist, musicians/DJ, etc.
Let's be honest, it's been a tough couple of years when it comes to employment and business for many folks, including those in the events industry. Think of all the cancellations, postponements, and lost contracts. Our wedding was originally scheduled to take place in 2020 but got bulldozed by Covid. When we postponed once...and then twice...we made a commitment to our service providers to find a new date that ensured we could still hire them and give them our business. That may sound easy, but managing the schedules of all of your providers and guests is a lot of work -- but we did it! So here's a special shoutout to some of the fabulous folks who helped make our day very beautiful.
Venue: Whitepoint Beach Resort (Hunts Point, NS)
Decorator: Sky's the Limit (Halifax, NS)
Florist: The Flower Shop (Halifax, NS)
Music: Our fabulous friends Clayton, Rosanna, and Jackson from the band, Hillsburn (Halifax, NS)
DJ: Atlantic Audio Pro (Halifax, NS)
Make-up: Janine Gerrits Makeup (Boutilier's Point, NS)
Hair: 5th Sense (Liverpool, NS)
We had our fabulous welcome sign (pictured above) created by Pixela Wood Signs in Fort Erie, ON.
6. Photography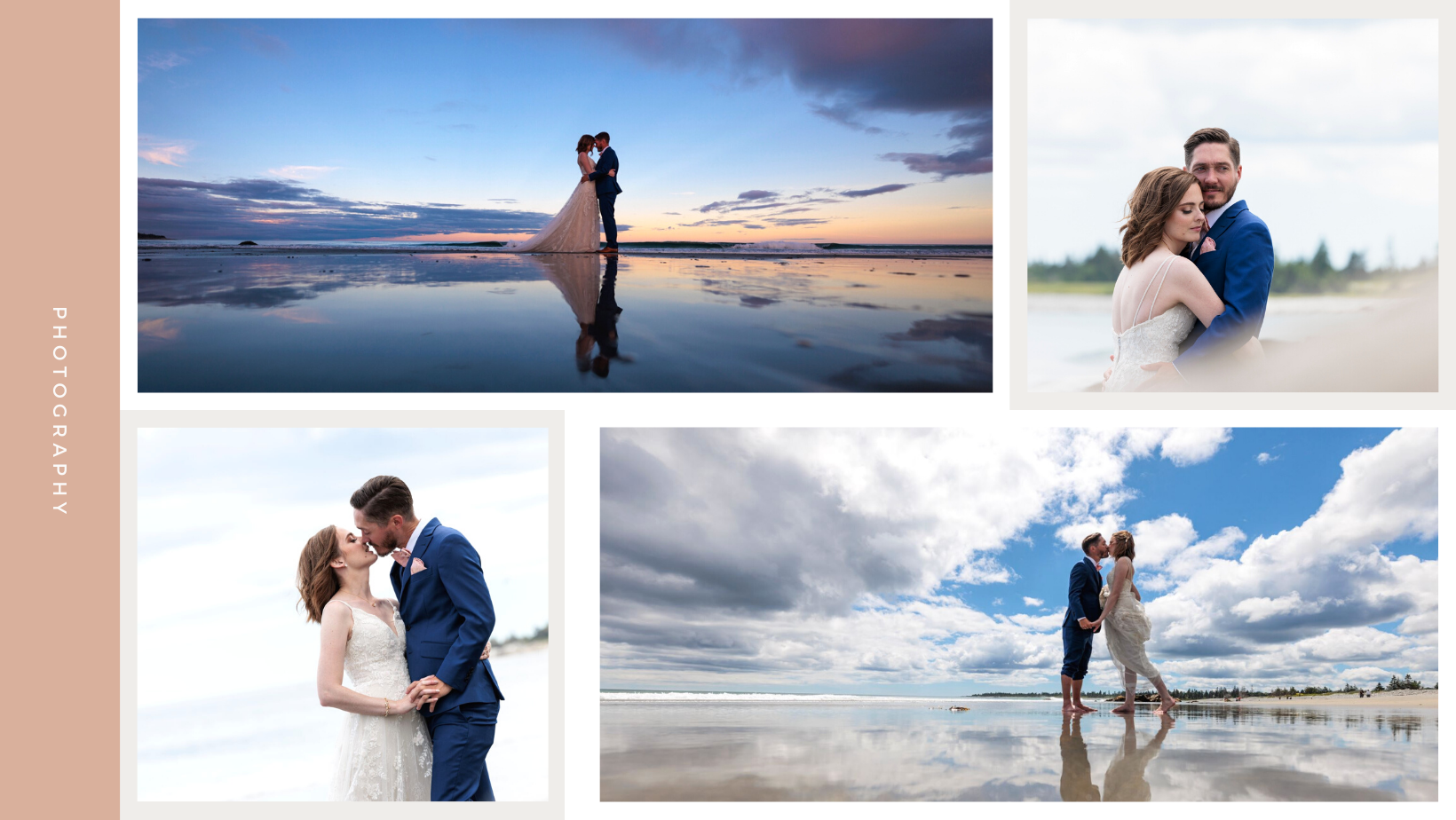 We would be remiss if we didn't mention our incredible photographers, Dave Brosha and Amy Stackhouse -- a fabulous team from PEI and NS. They made the entire day incredibly fun and relaxing and provided us with so many incredible memories for years to come.
That's it!
Whether you go big or small for your special day, there are many ways to add a local touch to your event. Not only does it support small businesses, but it adds memorable and personal touches throughout your day that you and your guests will remember fondly. <3
The Little Shop Box is a lifestyle subscription box featuring quality items from small businesses in Canada.
Treat yourself to local luxuries while supporting small businesses and local community organizations.